WARNING!
This page contains info about game secrets. Do not read if you want to keep the fun with exploring the game.
Secrets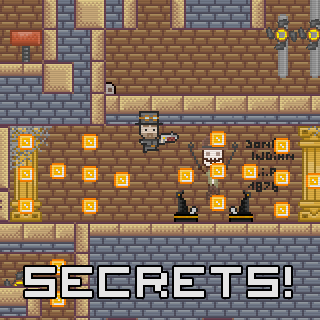 Secrets. Below you can find complete list of secrets, enumerated within a proper screenshot and secret's id name: lvl_X_Y_Z, where X stands for world, Y - level and finally Z - number of secret (obviously, there can be more than one secret per level). Click screenshots to enlarge.
In the first world there are four secrets, there should be no problems with finding them.
After falling down, just go left, the wall is fake.
The next world is more demanding. Three secrets, one of them needs a teleport.
You need to fall down in the right moment, there are vanishing blocks below. The reward is worth of it.
If you wonder how to get here, find the teleport:
The Ship
Edit
Only three secrets to reveal.
Tricky one. You have to fall down (and get out of there obviously).
In the control room there are treasures as well.
Much more to find.
To get here, use platforms:
Climb up and clear top of the level, the secret is pretty wide.
Plenty of secrets, some of them are just shortcuts.
Climbing up for a shortcut, the road starts here:
You will need platforms:
Not much to find, climbing skills needed.
Start climbing at the beginning of level, it could be difficult.
Pretty straightforward secrets.
That's all. Don't use cheats, with such case your secrets won't be stored.
Community content is available under
CC-BY-SA
unless otherwise noted.